Making or buying the right size bracelet seems not always an easy task whether you choose for a bead, link or a bangle type bracelet. Some basic information will help you on your way.
Measuring up:
Use a flexible tape measure or a piece of string + pen and paper
Measure up your wrist just beneath the wrist bone
Write it down and add some "extra length" for good measure
How to determine the extra length?
The length is partly determined by the width of the bracelet and partly by your preference. The wider the bracelet the more extra length you need to be comfortable.
For a snug fit (like a wristwatch) : add 1 cm tot 1,50 cm
For a comfortable fit: add 1,75 tot 2,5 cm
For a loose fit: add 3 cm
Advice: do not choose a snug fit for a wide bracelet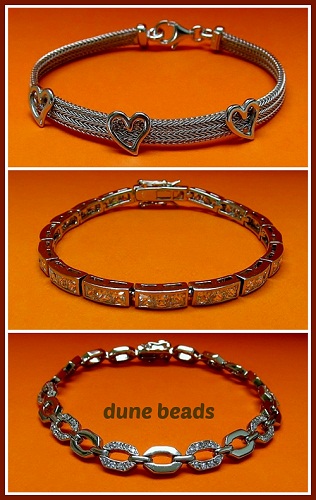 Size information for ready made bracelets:
Standard Women     Sizes bracelet      Standard Men      Sizes Wrist (loose to snug)
Small                         17 cm                                                 14 – 16 cm
Medium                     18 – 20 cm            Small                     15 – 18,5 cm
Large                         21 cm                   Medium                 18 – 19,5 cm
Extra large                 22 cm                   Large                     19 – 20,5 cm
                                  23 cm                   Extra large             20 – 21,5 cm
Questions ? Do not hesitate to take contact with info@dunebeads.com