You will be amazed how much better your jewelry will look if you use the right material and … the right tools for the right job.
For starters you will need :
Round-nose pliers, which have rounded tips and are used to curl wire or make loops
Flat-nose pliers, a basic gripping tool – or chain-nose pliers, which are more versatile
Wire cutters, which will not only cut the wire, but also the headpins you use for making earrings
Some glue, jeweler's glue of any brand will do
Scissors, to cut thread
Now you are on your way to choose your beads:
For color inspiration, see http://dunebeads.com/en/color-advise-cool-tones and http://dunebeads.com/en/color-advise-warm-tones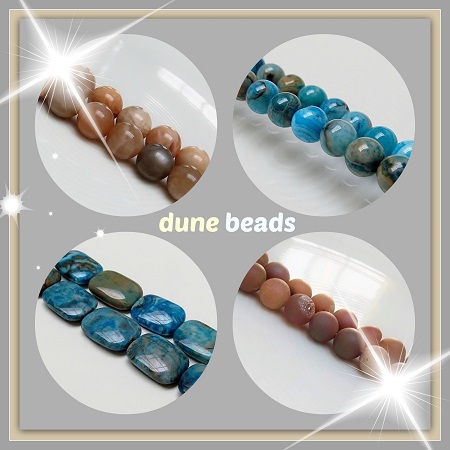 And do not forget your findings:
The findings are those little elements that connect beads together. To start you will need French hook ear wires, jump rings, headpins, crimp beads and lobster claws or toggles.
Take them in the best quality you can afford and think of the clasp as a pendant or a fancy bead. Most of the basic stringing methods will permit you to show off the beauty of the clasp, so take advantage of it.
In the next step you will choose your stringing material and take into account weight and size. The size of the beads and its material will guide your wire choices:
4 to 6 mm beads: nylon thread will do
8 mm and up: cabled wire, which is a nylon coated beading wire, from brand such as Flex-rite, Beadalon, Accuflex or Softflex. We recommend that you take a small roll of medium sized wire to start with.
If you love freshwater cultured pearls, use Griffin cord, as all other material will damage your pearls in the long term.
Take into account your targeted customer when choosing stringing material:
For exclusive jewelry, choose 49 strands cabled wire, medium for starters, as its high flexibility will give you just that extra quality edge.
For youngsters, kids and those who have joint problems there is stretchy jewelry cord in all sizes and colors.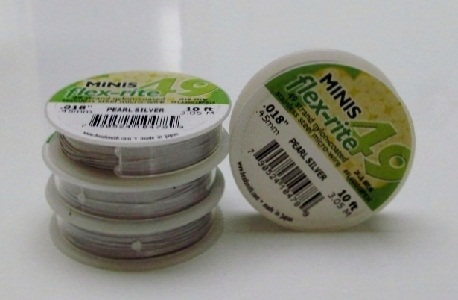 Add your personal touch:
The world around you is your source of inspiration and your view of it makes it unique. By combining different materials and colors, you will develop a very personal style. You may also limit your style by creating only one type of jewelry, such as bracelets, or by using one type of technique, like macramé.
To give you some ideas:
for a bohemian style combine leather with beads in a multi-strand design,
for a vintage look combine pastel colors and/or add silk and lace to pearls
… and for a sporty look, start with the colors of your local sports club.
And finally, fix your budget and visit http://dunebeads.com/en/ !
Have fun ... see you soon !