This article appears quite late in the month
due to those controlling affairs called
stock management and accountancy.
With the monthly arrival of new products
comes also a huge stock to process …
so my apologies.
The new spring-summer colors are out there and
a deep muted wine red, called marsala or
Pantone 18-1438, is the main color for 2015.
In general, all the new colors have a muted feeling
about them, even the bright shades.

Marsala opens the spectrum of warm colors, which are:
toasted almond, a neutral sandy beige
tangerine, a muted orange, warm and inviting
strawberry ice, a warm soft pink on the brink of cool
On the other side of the spectrum are the cool colors:
aquamarine, airy and dreamy
scuba blue, a more bright Mediterranean blue
classic blue, a strong marine blue
lucite green, an aqua green or light turquoise with a retro touch
custard, a greenish yellow
glacier gray, a neutral soft bluish gray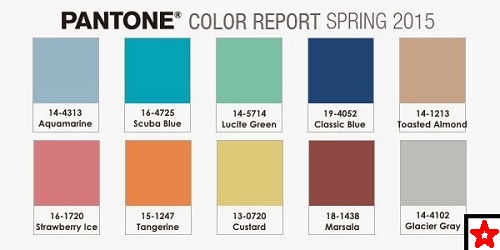 To conclude,
the spring color scheme of 2015 is mainly cool and rather muted
the spring-summer collection contains two strong colors: Marsala and classic blue
at weddings we will be wearing lots of strawberry ice and aquamarine colors.
Enjoy your creation ... and buy your beads @ https://dunebeads.com/en/our-beads !
Did you =Like= this article ? Have fun. See you soon!