The jump ring exists in two versions: a cut through or sawed one and a soldered one, or in other words an open and a closed ring.
Open jump rings serve to make connections and will therefore bundle loose parts in a flexible way, going from charms or pendants to rings and clasps.
Choosing the right jump ring:
A. Material:
As you want to bend the jump ring, you, as a newbie, will choose them in soft to medium hard materials such as aluminum, copper or silver. Remember that steel is very hard and you will need a good pair of pliers …
In terms of quality and for professional use, it is recommended to choose chainmail (chain mail/chain maille) jump rings. An artisan will also solder the open silver jump ring, linking the clasp to a precious handmade jewel. But as for now, we are not there yet.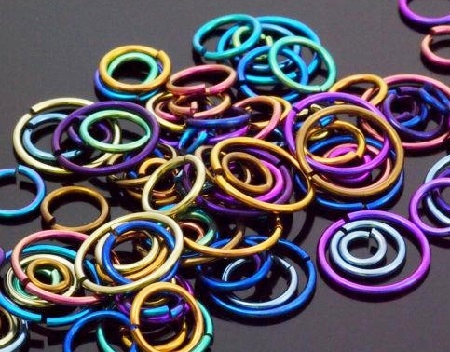 B. The jump ring size:
The jump ring may be an elegant accent of your design or something that you rather like to conceal inconspicuous. In the latter case and for instance, when attaching a toggle clasp, you measure the size of the eyelet of the clasp and then choose a similar size for your jump ring. With a medium-sized lobster clasp, you will usually need a 5 mm jump ring.
However, you should not only take account of the outer diameter of the jump ring, but also of the inside diameter ... the thicker the wire, the smaller the inner area.
C. Determining the inside diameter:
And the gauge or the wire size, you will ask yourself ...
We make it simple: to link components you usually choose between these two sizes which you need to have in stock:
20 gauges: for earrings and lightweight elements
18 gauges: for clasps and pendants
Remember: The smaller the gauge number, the thicker the wire!
SEE - Part 2