CONTINUATION - weaving a rope in filled tubular netting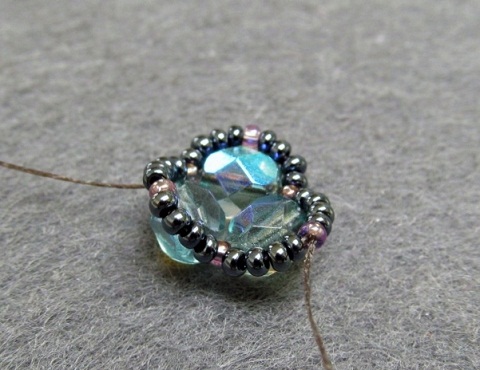 you are ready to restart the process and fill the basket: pick up a 6 mm filler bead and pass through the next crossover bead, repeat this two more times
as 6 mm filler beads are quite heavy, especially gemstone beads, give them a second pass through to reinforce the structure**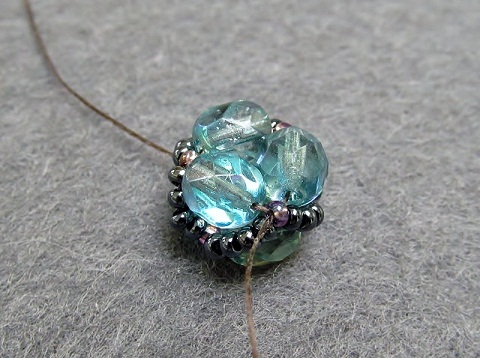 and there you are ready to create the petals again: pick up 4 seed beads in color A, 1 in color B and again 4 in color A and pass your needle through the next crossover bead, repeat two more times
continue like **this** till you obtain the desired length
to finish: create the three petals, make a step-up and continue as usual, but instead of using a 6 mm filler bead, replace it with a seed bead. This will tighten the structure. 
Now you are ready to add the clasp of your choice.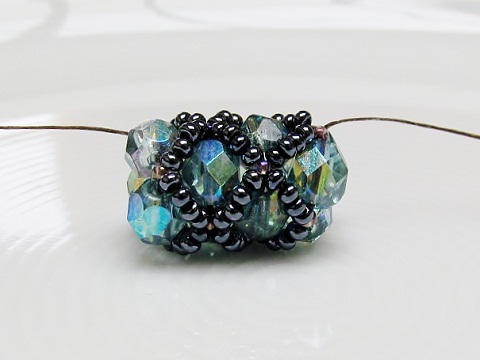 In short, your structure consists of three petals you push up to form a basket, after which you go to the top of a petal to fill up the basket.
Attention:
If you choose to work with only one color seed beads, it is advisable to lay out piles of 9 seed beads to avoid mistakes.
Note:
when using 4 mm filler beads, you will probably need only 3 seed beads in color A at each side of the crossover bead instead of 4 seed beads in color A.
this technique can also be used to make a lovely pendant.
Please choose your beads @ http://dunebeads.com/en/czech-fire-polished-round-beads !
Do not forget: have fun, because practice makes perfect. See you soon!