This elegant, dainty stringing project is all about playful loops and can without doubt become a stunning necklace too. Play with colors and amaze the world with your creativity.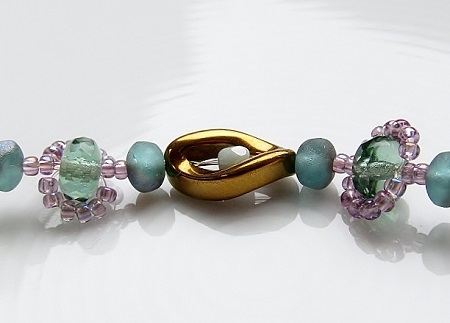 Challenge:
Arm yourself with patience and make sure that both threads stay parallel and do not cross each other, otherwise the loops around the rondelle beads will collapse into each other.
Supplies for the "dancing through hoops" bracelet:
11/0 seed beads
3x5 mm Czech faceted rondelle beads
4x7 mm Czech faceted rondelle beads
8x13 mm hematite gemstone loop beads in twisted rhombus shape
3x3 mm Czech faceted round beads – optional -
polyethylene thread or fishing thread or FireLine
crimp beads or crimp tubes
button for the clasp
pliers, scissors and beading mat.
Stringing instructions for the "dancing through hoops" bracelet:
cut off about 70 cm polyethylene thread
to create a loop big enough for the button: for a 12 mm button that means about 24 seed beads and for a 14 mm button, that will be about 28 seed beads
pick up the seed beads for the loop, push them till the middle and fold the thread
string both ends of the thread through a crimp tube and check if the threads are parallel before crimping it
pick up one seed bead with both threads to give extra mobility to your bracelet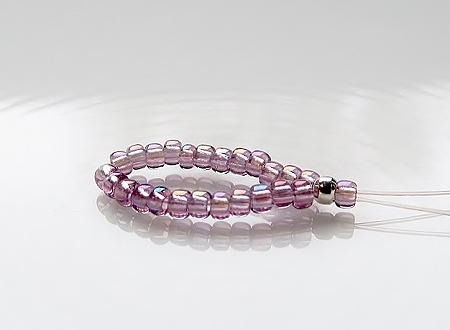 * with both threads: pick up one 3x5 mm bead, two seed beads and one 4x7 mm bead
check if the threads are still parallel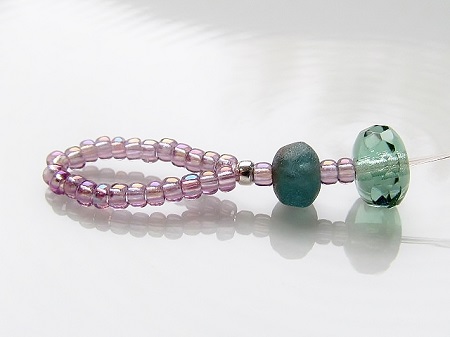 with one thread: pick up six to seven seed beads and string in a loop through the 4x7 mm bead – repeat with the other thread -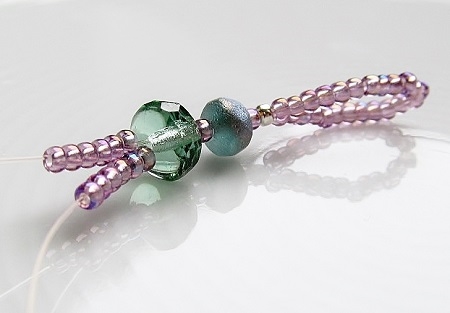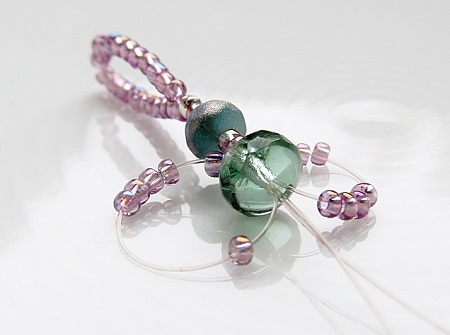 with both threads: pick up two seed beads and one 3x5 mm bead
continue with both threads and string one 8x13 mm loop bead
optional: if you want a central accent in the loop bead, pass one of the threads through the first hole, then through the 3 mm round bead and finally through the second hole of the loop bead – tighten the thread with the hand to one side and pass the second thread through in one go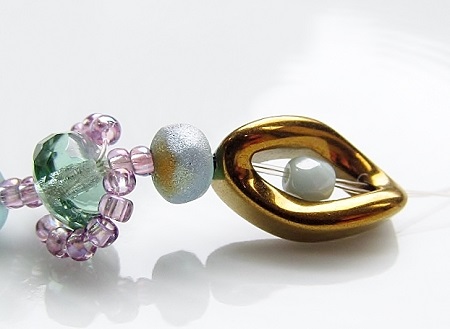 check if the threads are still parallel **
SEE - PART 2