Instructions – how to attach a clasp
Measure the knotting cord – stretch it gently cm by cm

Thread the needle, double the cord and make a double knot at the end

Increase slightly the opening of three pearls so a doubled cord can pass twice through

String the three pearls on the doubled cord and slide them till the double knot

Attach the clasp:

Push the needle through a piece of French wire till about 6 cm from the pearls, string the clasp – push the needle back through the last threaded pearl – pull the cord gently while pushing the pearl against the French wire – the clasp will slide over the French wire and sit in the middle of a loop – behind the first pearl, make an overhand knot with the two pieces of cord – push the needle through the second pearl and push it against the knot – again make an overhand knot with the two pieces of cord – push the needle through the last pearl and put a drop of glue on the cord before making the last knot – cut off the short end

Advise: put also a drop of glue in the first knot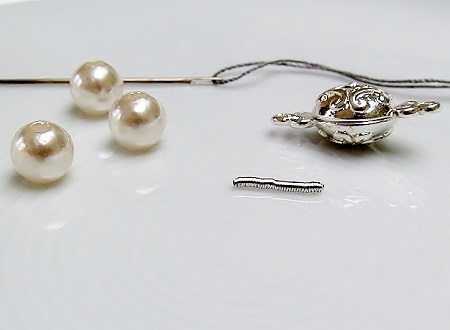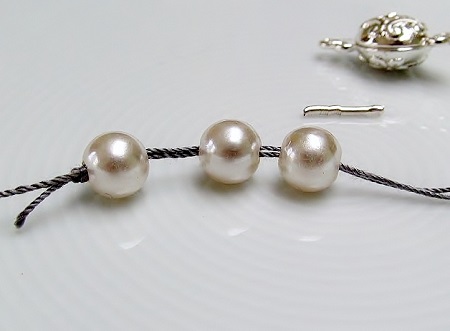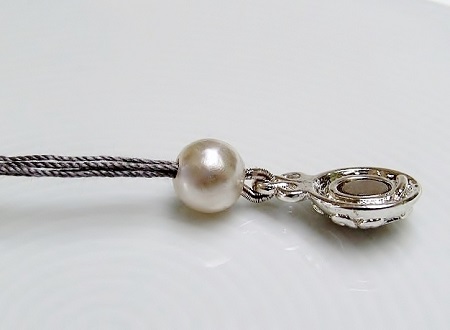 Instructions – how to knot pearls
Now you are ready to knot a strand of pearls – make sure there are no gaps between the pearls and the knots

String a pearl and slide it against the previous knot – make a loose overhand knot – slide the knot with your thumb and index finger towards the pearl – get your finger out of the loop – put a thick needle into the loop – maintain the knot against the pearl and pull the cord – take apart the doubled cord – pull gently on both cord ends – start over

Advise: instead of a thick needle you could use a pair of fine tweezers

If when finished you notice that the knots are slightly too tight and the necklace does not drape well, pull gently on the necklace to stretch the silk and wear it for a couple of hours.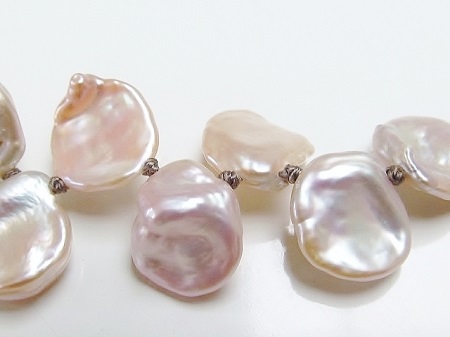 The overhand knot
This is a knot you use often.
Place the cord while rotating over the hand – pull the end of the cord through the loop towards you - pull – make your knots always in the same direction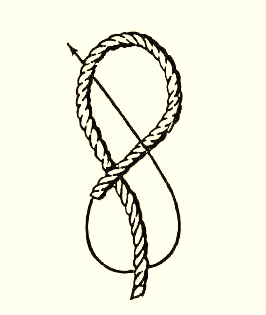 Have fun and enjoy shopping @ https://dunebeads.com/en/organic-gemstone-beads-pearls-and-co-ashore !